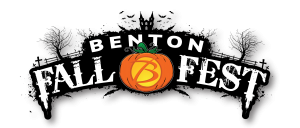 The "Organization Registration Form" is for groups like churches, student organizations or folks with fundraisers who want to set up a not-for-profit booth at the 2018 Benton Fall Festival.
This type of registration does not come with a typical vendor fee because it is not-for-profit – the booth should be strictly donation based.
If you plan to have any kind of food available, please contact Rachel Gartner at Benton City Hall.
Fundraisers must abide by the same Bi-County Health regulations as any food vendor and must be cleared with Bi-County for the event.
We encourage all kinds of creative ideas for these booths! The more fun for the crowd and the organization, the better!
The available booth spaces will be approximately 10'x10′ and do not have a power supply.
The notable rules for the event and the booths are outlined in the pdf file below.
Please fill out one of the registration forms below and turn it in to Benton City Hall on or before Monday, October 22nd.
You can also email your forms to rgartner@bentonil.com or send them standard mail to:
Benton City Hall
c/o Community Events
P.O. Box 640
Benton, IL 62812
After you have submitted your forms, please give us a courtesy call to ensure your application has been received.
Also, be sure to include your contact information so Benton Community Planning members can contact you with your booth space location.
Thank you for your participation in this year's Fall Festival!!