Police Department
Work
500 West Main Street
PO Box 640
Benton
IL
62812
work
Work Phone
:
618-439-4504
work
Work Phone
:
618-435-8131 Dispatch
work
Work Phone
:
Call 911 for Emergency
work
Chief Andrews and the entire department work tirelessly to protect our citizens and make our community safe for all to live and work.
Like most police departments across the United States the Benton Police Department is a small department consisting of ten sworn officers, including the Chief of Police, and one Administrative Assistant. The Franklin County Sheriff's Department provides radio dispatch duties. Currently, eight officers serve in a patrol capacity and two serve as the Department Investigators. The BPD has an auxiliary unit currently comprised of seven auxiliary officers, which provide police assistance at parades, school sporting events and other functions where large numbers of people gather.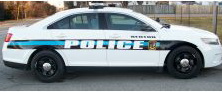 The Benton Police Department is a very professional department, handling law enforcement incidents ranging from traffic enforcement, theft, domestic violence and felony crime investigations. We cooperate fully with other police agencies within our jurisdiction. Our department handled over 4060 calls for police service in 2010. These calls for service generated over 3500 police reports.
In service training continues to be routine at the Benton Police Department. The Department currently has a Field Training Officers, cyber Crime Unit and a Sex Offender Compliance Unit. Special emphasis has been placed on investigative skills officers need to successfully complete cases. Two officers are currently trained in specialized interviewing skills. Our officers are dedicated professionals who continue to learn new programs, techniques and skills every day of their careers.
We have also taken an active approach to both solving and subsequently preventing juvenile crime. It is the department's position that is better to steer youngsters in the right direction before they become involved in the crime. To that end, our police department has three certified juvenile officers, with more planned for in the future.