Skyvector Airport Information https://skyvector.com/airport/H96/Benton-Municipal-Airport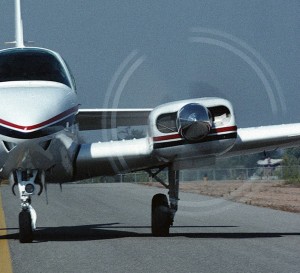 Benton Municipal Airport (FAA ID: H96) is a public-use, city-owned airport located 1 nautical mile west of the central business district of Benton, a city in Franklin County, Illinois, United States. The airport began in 1946 and has a lighted, 4002′ x 75′ paved north-south runway. Runway 18 has a RNAV/GPS approach with VASI lighting (3.33 degree glide path). Tie-down anchors (unroped) are located on the west side of the terminal apron. There is no charge for parking.
                                                               Why Fly into H96?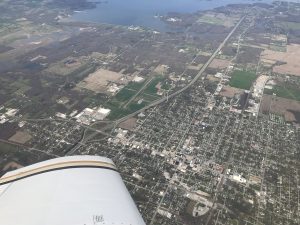 Rend Lake (the southern part as seen in this aerial photo) is located less than 2 NM north of the airport. It boasts over 19,000 acres of recreational fun! Spend the day, weekend, or month…fishing, boating, camping, staying in cabins, swimming, biking, or hiking in one of the region's premier outdoor fun locations! Click on the link for more info: https://rendlake.com/ While visiting H96, be sure to support some of our local businesses. Food, shopping, antiques, and many more stops are nearby!
100LL fuel service is self-serve via credit card, 24 hours a day. Crew car available for visiting aircraft pilots.
T-Hangars rent for $150 per month. If signing an annual lease, your first lease will include 6 months free rent! Subsequent annual leases will receive 2 months free rent. 
For information on T-Hangar availability and lease, or emergency aircraft maintenance needs during your visit, please contact the Airport Manager at the email listed below. 
Like Us on Facebook for more frequent updates! https://www.facebook.com/bentonairportH96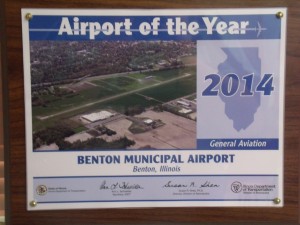 The Benton Municipal Airport was named 2014 Illinois General Aviation Airport of the Year.
Owner:
CITY OF BENTON – CITY HALL
P.O. BOX 640 – BENTON, IL 62812
Phone:  618-439-6131
Manager:

MATTHEW HARRISON
P.O. BOX 640 – BENTON, IL 62812

email:  bentonmunicipalairport@gmail.com
Current FAA Airport Information
Other nearby airports:
Barkley Regional Airport – Paducah, KY
Lambert International Airport – St Louis, MO
Veterans Airport – Marion, IL