Police Department
Police Department
Contact
:
Chief Chris
Funkhouser
Home
503 W Washington Street
Benton
IL
62812
home
Work Phone
:
618-439-4504
work
Work Phone
:
618-435-8131 Dispatch
work
Work Phone
:
Call 911 for Emergency
work
Biographical Info
Chief Funkhouser and the entire department work tirelessly to protect our citizens and make our community safe for all to live and work.
Like most police departments across the United States, the Benton Police Department is a small department consisting of ten full-time officers, including the Chief of Police, and one Administrative Assistant.  Currently, eight officers serve in a patrol capacity and two serve as Department Investigators.   The department has a K-9 Unit, two crime scene investigators and a computer forensic examiner.  The BPD also has an auxiliary unit currently comprised of six auxiliary officers, which provide police assistance at parades, school sporting events and other functions where large numbers of people gather.
The Benton Police Department handles law enforcement incidents ranging from traffic enforcement, theft, domestic violence and felony crime investigations. We cooperate fully with other police agencies within our jurisdiction. Our department handled 5385 calls for police service in 2018.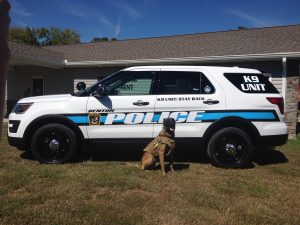 Categories:
City Services